DC Jack Repair Indiana

Call:

765-622-9232
Symptoms
Failing to charge the battery properly
Charges intermittently or when the power adapter is in a certain position
The power adapter is loose in the Power Socket
The screen flickers between being bright and being dim (this could also indicate an inverter/backlight problem).
Have the kids, the dog, or yourself tripped over the cord and yanked it out of the laptop?
Does power cable able to wiggle back and forth, or side to side after you insert it into the laptop?
If you answered yes to any of the questions above you probably have a broken dc power jack inside your laptop. It is a very common thing to have happen to any laptop including:

Dell,

Toshiba,

HP, Compaq, Gateway, and Sony.
How We Can Help
There are several components that allow a laptop to charge ranging from the power adapter that plugs into your wall to the battery that powers the laptop. We can diagnose and repair intermittent power and charging issues on all makes and models of laptop.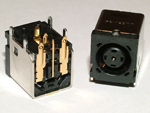 In the event of a DC Jack fault – Using a professional hot air rework station, M-TEK Computer Repair can remove the damaged DC Jack and re-solder a new one onto the motherboard. As always, our work carries a 30 day labor only warranty. Terms and conditions apply.
Turn around times are between 1-3 working days on average. We stock a large number of DC Jacks.
Please have your laptop make and model to hand when contacting us so we can provide you with a more accurate quote.
Before                                                                               After